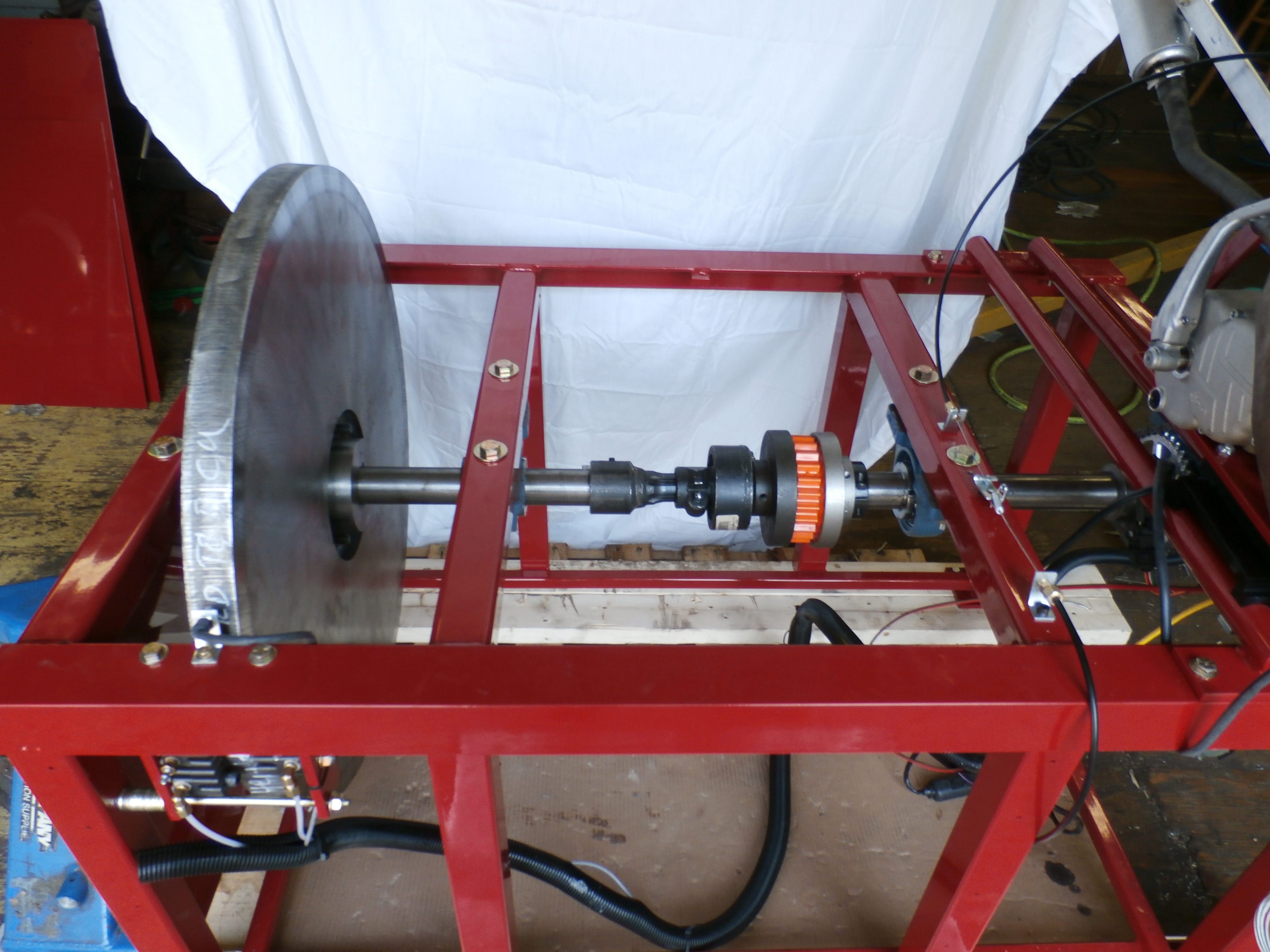 2017 INERTIA FLYWHEELS/AXLE ASSEMBLIES
FOR SMALL ENGINES DYNOS
IF DYNOING A 13 HP MOTOR, YOU WANT AT LEAST 25 HP FLYWHEEL!
PRICES SUBJECT TO CHANGE WITHOUT NOTICE!
SINCE LATE 2016, WE HAVE WENT TO TURNED, GROUND AND POLISHED STRESS-PROOF A311, 1 ¾", WHICH IS PERFECTLY STRAIGHT, AFTER MACHINING KEYWAYS, IT WARPS SLIGHTLY, SO NOW WE HAVE TO STRAIGHTEN AXLES TO GET THE BEST AXLE WE CAN MAKE!  "PRO" AXLES (MEASURES 1.7495") WITH SELF ALIGNING SELF CENTERING OVERRSIZE BEARINGS.  STRAIGHTENING SAVES ON BALANCING COST.
WE HAVE OR CAN GET ANYTHING YOU MIGHT NEED FOR AN INERTIA DYNO ?
FLYWHEEL/AXLE ASSEMBLIES ARE BUILT TO GIVE YOU THE BEST QUALITY PRODUCT WITH THE RECCOMENDED SPECIAL BEARINGS.  WE NO LONGER USING SET SCREW OR ECCENTRIC COLLAR TYPE PILLOW BLOCK BEARINGS AND WERE TRYING TO QUIT USING 1 ¼" AXLES COMPLETELY!  I HAVE TRIED FOR YEARS TO COME UP WITH LOWER COST FLYWHEELS, THIS IS THE BEST FLYWHEEL WITH THE HIGHEST QUALITY FOR THE MONEY.
I WILL NEED YOUR ZIP CODE FOR FREIGHT ESTIMATE AT COST?
2017 UPDATE-ADD ONE-WAY SPRAG CLUTCH AND HYTREL TORSION SHOCK SYSTEM, $799.99.  FOR  1 ¾" AXLE.
NOTE: THE FOLLOWING FLYWHEEL/AXLE ASSEMBLYS INCLUDE (2) HIGH QUALITY JAPANESE BUILT OVERSIZE SELF CENTERING BEARINGS, (1) SPROCKET HUB, SPROCKET & CHAIN GUIDE, (4) LOC COLLARS, ALL LABOR, WELDING, INNER & OUTER SPECIAL HUBS, COMPUTER BALANCING, KEYSTOCK. IF THIS REQUIRES (2) #219 CHAIN? IT IS EXTRA.
2017 1.75" AXLE (25 HP) X 36" AXLE WITH HEAVY DUTY BEARINGS & ALL OTHER PARTS $2183.46
1.25!.25" X28" 222222202094.37
1.25" X 28" (25 HP) FLYWHEEL/AXLE ASSEMBLY= $2058.83
1.5" =$2159.38 (30 HP)
1.75"   =$2183.46 (35 HP)
2" =$2388.43 (40 HP)
2.25" =$2393.62 (45 HP)
2.50"  =2510.52 (50 HP)
SPECIAL NOTE- USING 1 ¾" BEARINGS ALLOWS YOU TO CHANGE BEARINGS IN MINUTES INSTEAD OF SEVERAL HOURS-FROM FEEDBACK OF OTHER CUSTOMERS, BEARINGS WEAR OUT IN 1 ½-2 YEARS ON VERY HIGH VOLUME USERS AND 3-5 YEARS ON LOW VOLUME USE USERS. THE NEXT STEP UP IN BEARINGS HAS TWICE THE LOAD CAPACITY OF MY STANDARD BEARING, SO TWICE AS LONG BEFORE BEARING PROBLEMS? (4 YRS ON HIGH VOLUME USERS) THERE ARE TWO HIGHER GRADE BEARINGS IF YOU WANT ME TO QUOTE?
INCLUDES SPECIAL CONCENTRIC TYPE OVERSIZE SELF CENTERING PILLOW BLOCK BEARINGS, AGAIN FOR MAXIMUM ACCURACY, LONGEST LIFE AND LEAST AMOUNT OF FRICTION
GREASED WITH LOCTITE VIPER LUBE SYTHETIC GREASE FOR LEAST FRICTION, ONLY ONCE OR TWICE A YEAR. -DO NOT USE PETROLEUM GREASE!
FLYWHEEL CUT OUT ON (CNC) COMPUTER NUMERIC TORCH
THEN BLANDGARD GROUND ON BOTH SIDES TILL PARRELLEL.
I CENTER SPECIAL INNER HUB WITH DIGITAL CALIPER BEFORE WELDING.
HUB WELDED IN PLACE ON BOTH SIDES
BALANCED FLYWHEEL ASSEMBLY TO UNDER 3 GRAMS AT 500 RPMS ON COMPUTERIZEED DIGITAL ENGINE BALANCER! (28 GRAMS IN AN OUNCE) VERY ACCURATE!
WE SPEND HOURS TORQUEING INNER HUB UNTIL WE ACHIEVE MINIMAL AMOUNT OF FLYWHEEL FACE RUN-OUT.
COMES WITH (1) HEAVY DUTY SPROCKET HUB, CHAIN GUIDE, SPROCKET #35 OR #219, ALL FLANGE BOLTS & NUTS.   (2) #219 CHAIN IS $74.00 MORE.
INCLUDES 1 FT. KEY STOCK
(2) STEEL OR ALUMINUM LOCK COLLARS.
NOTE: IF YOU WANT STUB AXLE ADDED SO YOU CAN ADD SECONDARY FLYWHEEL IN FUTURE, PRICE =$30.00.
2017 UPDATE-ADD ONE WAY SPRAG CLUTCH AND HYTREL TORSION SHOCK SYSTEM TO THIS AXLE, $799.99.DYNO WILL BE CLOSE TO 48" LONG.
THIS (1.75" WIDE) IS THE NUMBER ONE #1 SELLING FLYWHEEL FOR MOST 2 & 4 CYCLE KART ENGINES!
IF DOING A WIDE RANGE OF HP ENGINES, CONSIDER A 2 OR 3 FLYWHEEL DYNO?
WE CAN DO ANY SIZE FLYWHEEL!-CALL FOR QUOTE?
IF YOU WANT ABILITY TO DO SHIFTERS KARTS OR LARGER ENGINES IN FUTURE, ADD STUB AXLE OPTION-CAN INCLUDE HUB FOR 428/520 CHAIN SPROCKET.
CALL FOR EXACT QUOTE?
THIS IS THE FLYWHEEL AXLE ASSEMBLY THAT I ALWAYS RECOMMEND!  THE LONGER THE DYNO PULL IN TIME, THE MORE ACCURATE! IT DOES NOT MAKE HOW LONG YOUR STRAIGHT AWAY IS!  WITH THIS ASSMEBLY YOU CAN CHANGE GEAR RATIO TO AFFECT DYNO PULL TIME (SECONDS) AND LOAD ON ENGINE FOR CLUTCH TESTING.
INCLUDES ALL PARTS LISTED ABOVE EXCEPT FOR 1 ¾" AXLE, ETC.
THIS FLYWHEEL CAN BE USED WITH ELECTRIC START BELT DRIVE OR WITH ONE-WAY SPRAG CLUTCH.
HIS INCLUDES (2) STEEL 2 PC. LOCK COLLARS FOR THIS ASSEMBLY.
INCLUDES EVERYTHING LISTED ABOVE FOR 1 3/4" AXLE
NOTE: IF YOU WANT TO ADD STUB AXLE WITH MACHINE WORK, ADD$30.00.
AXLES
1 ¼" X 31.5" OR 35.5" STRESS-PROOF STEEL AXLES- KEYWAYS CUT FOR TWO PILLOW BLOCK BEARINGS, ONE ON EACH END,(I NOW RECOMMEND A BEARING IN CENTER OF AXLE OR 13"  FROM FLYWHEEL END)  ENDS CHAMFERED AND STRAIGHTENED SO COMPUTER BALANCER CAN USE SENSOR THERE.  PRICE=$89.99. SHIPPING IS $14.99 WITH USPS FLAT RATE MEDIUM TUBE BOX. AXLES OVER 36" LONG WILL BE QUITE A BIT MORE FOR SHIPPING COST!
1 ¾" X 35.5" STRESS-PROOF AXLE- ALL MACHINE WORK AND LABOR SAME AS ABOVE. WE STOCK KEYSTOCK, 2 PC. LOCK COLLARS, SPROCKET HUBS, ETC.
PRICE=$148.53, SHIPPING $14.99
NOTE: OPTIONAL PARTS ADDED WILL HAVE TO BE SHIPPED IN A SECOND BOX.
CUSTOM AXLES?
WE CAN DO ANY SIZE OR LENGTH OF CUSTOM AXLE, JUST NEED A BLUEPRINT?
HEWITT INERTIA DYNOS- PHONE 641-775-3395
E-MAIL= [email protected]