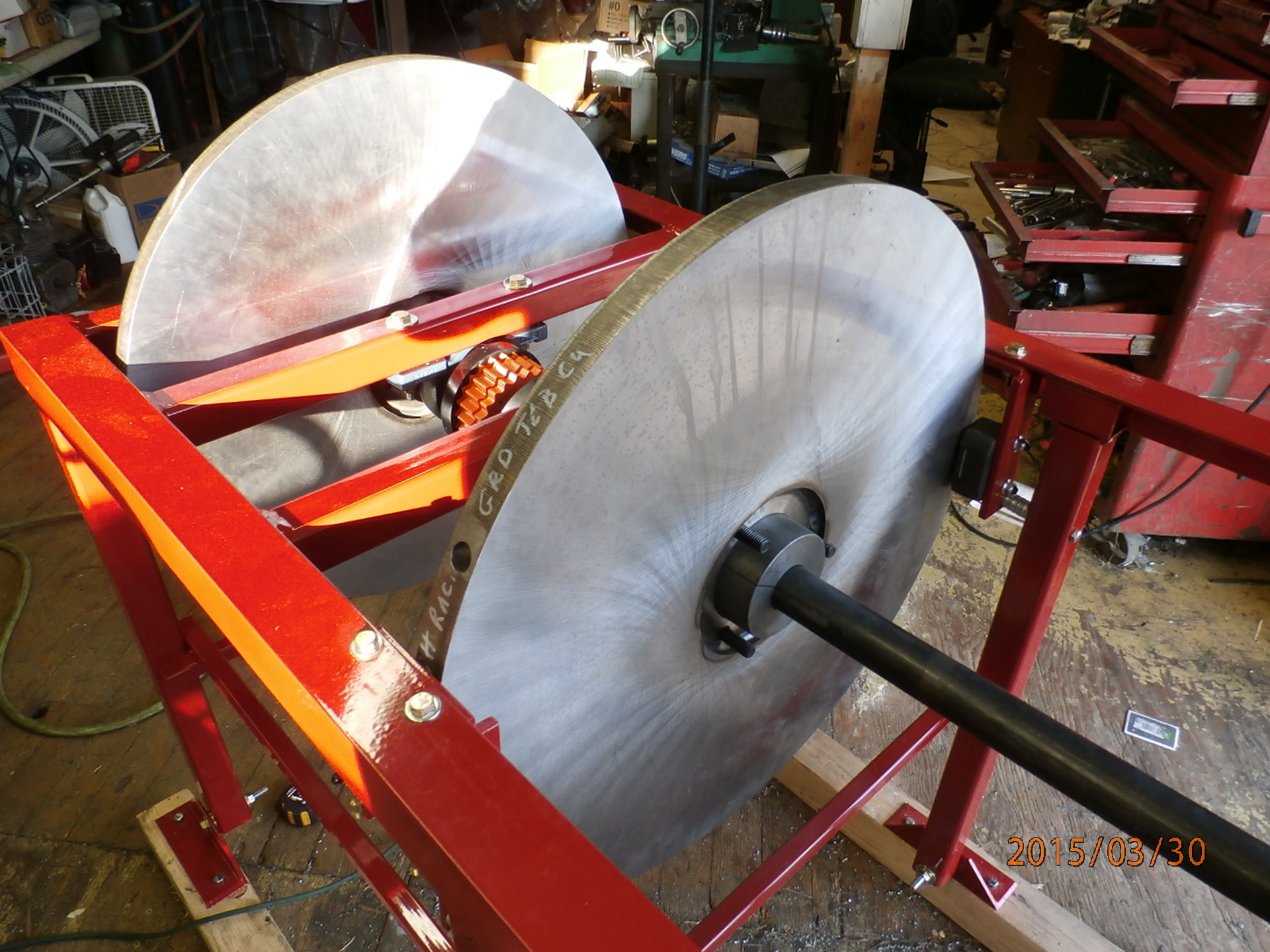 DUAL FLYWHEEL 50 OR 60 OR 70 HP CLUTCH DYNOS
CAN ADD ELECTRIC START & BELT DRIVE SYSTEM.
ALLOWS DYNOING 5 HP ENGINE UP TO 55 to 80 HP, MAYBE MORE?
50HP=$7538.42 *Always call for up-to-date pricing – as costs change
60HP= $8134.68
70HP=$8730.94
ADD ONE-WAY SPRAG CLUTCH WITH TORSION HYTREL SHOCK SYSTEM, ADD $949.99.
YES, WE CAN BUILD OTHER HP RANGES!
PRICES CAN CHANGE WITH OPTIONS!
THESE COME WITH 1 ¾" AXLES, PREMIUM CONCENTRIC JAPANESE MADE OVERSIZE AXLE BEARINGS WITH ADPATERS. SUPER LOW FRICTION!
35 HP PRIMARY FLYWHEEL, 25 HP SECONDARY FLYWHEEL ON 60 HP MODEL OR CAN BE REVERSED?
"PRO" SERIES DATA SYSTEM WITH 4 TEMP CHANNELS INCLUDED, S.A.E. WEATHER CORRECTION, EXPANDABLE TO 21 CHANLES, ENGINE RPM AND FLYWHEEL/AXLE RPM. "PRO" SOFTWARE ALLOWS COMARISON OF 6 GRAPHS OR 6 REPORTS. ACCELERATION & CLUTCH TESTING INCLUDED.  EASY TO ADD SINGLE CHANNEL AIR/FUEL RATIO ($499.99) OPTIONAL, ALSO AIR/BRAKE SYSTEM OPTIONAL ($650.00).
SIMPLE MECHANICAL CONNECTOR IS STANDARD. CAN USE AIR OR ELECTRIC CLUTCH, FOR ADDITIONAL CHARGE.
ACER 17.3 LAPTOP OPTIONAL ($650.00), WITH ALL WINDOWS UPDATES, WINDOWS ESSENTIALS UPDATED, SOFTWARE INSTALLED AND DYNO TESTED WITH THIS COMPUTER.
LEVNOVA DESKTOP WITH 21" OR 23" LCD MONITOR $649.99 OR CURRENT PRICE?
SAMSUNG DUAL CORE OFF LEASE DESKTOP OPTIONAL, (NEW KEBOARD & MOUSE INCLUDED) ($249.99) UPDATED, WINDOWS ESSENTIALS INSTALLED, SOFTWARE INSTALLED AND COMPUTER USED TO TEST DYNO. MONITORS OPTIONAL PRICE ($119.99 TO $159.99) 19"-24" SIZES
AIR/BRAKE SYSTEM ($699.99) -USED TO HEAT UP ENGINES MUCH FASTER TO AN EXACT TEMPERTURE IF YOU WANT. WILL BE FASTER THAN DOING SEVERAL DYNO PULLS. TO BE USED FOR JUST A MINUTE OR TWO, NOT TO BE ABUSED BY USER! USE WITH CAUTION! IF YOU WANT TO REALLY LOAD ENGINE FOR A LONG PERIOD TIME, I RECOMMEND ADDING STUSKA WATER BRAKE OR 60 HP HYDRAULIC LOADING SYSTEM.  NOTE: NOT TO BE USED TO REPLACE HYDRAULIC, WATER BRAKE OR EDDY CURRENT!  ELECTRICAL CONTROLLED HYDRAULIC CAN BE MADE INDEPENDENT OF INERTIA DYNO OR USE TOGETHER?
SINGLE OR DUAL CHANNEL AIR/FUEL RATIO AVAILABLE.
REV LIMITER AVAILABLE WITH DATAMITE 4 SYSTEM.